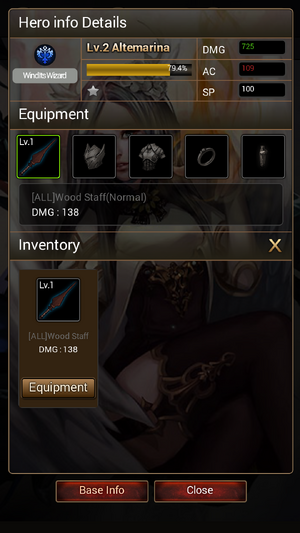 So you're in the game now and want to get started!

Before you take part in Clan and Kingdom battles with your kingdom or clanmates, you'll want to level up your heroes.
To level up your heroes, you'll want to journey into the hunting grounds on the world map. But first let's equip that Wooden Staff you received from Tailing.
From the Main Menu, press "Giftbox". Find the Wood Staff in your Giftbox and press "Accept". (If you happen to have multiple gifts in your Giftbox, you may need to scroll down in the list).
Close the Giftbox and make sure you are at the Main Menu. You will notice your first three heroes that have joined you are at the bottom of the screen.  You can now equip the wooden staff by tapping one of the heroes, which will show you the entire "card" of the hero. From here, press "Detail Info".
You can access this screen for any hero you have simply by choosing "Detail Info". This is where you will equip items and check your hero's stats and skills.
At this point, under the section labeled "Equipment", press on the far left weapon icon (which looks like a spear). You should see the Level 1 Wood Staff below, so go ahead and select it. It will now equip to this hero. You may notice that this hero's DMG (damage) at the top right just went up as you equipped the staff.
The other options under "Equipment" represent the slots for headgear, body armor/robe slot, jewelry slot, and a potion slot. By pressing any of these options, you will see any available items below that can be worn by your hero. As you adventure, you will accumulate items that you will want to equip to your heroes to make them more powerful and better able to handle their foes in battle.
Now that you've equipped your Wood Staff, let's go back to the Main Menu by  hitting "Close" at the bottom right.
You are now ready to begin!
Go to the next section: Your first battle
Community content is available under
CC-BY-SA
unless otherwise noted.